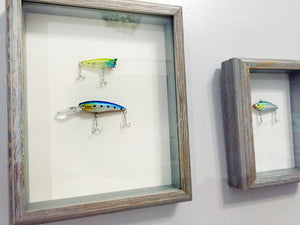 Fishing Lures - Shadow Box Art
The Trelles Cottage
Regular price $70.00 Sale
Fishing Lures Inside Shadow Box Art
We here at The Treles Cottage come from a long line of fishermen. And whenever we make this set it seems to turn a lot of heads, not just from the usual suspects either. This can be found in any home and can really be given to anyone. 
Fishing lures mounted on a sheet of canvas and placed inside a shadow box. Box can be mounted on the wall. Fishing lure colors are shown as is green & blue.
Shadow box is gray/brown.
Perfect addition to your home, summer home, lake house, camper, cabin, etc. Also makes a great gift, everyone knows someone who is an avid fisher. Please let us know if you wish for us to custom make a piece for you or for someone you know!