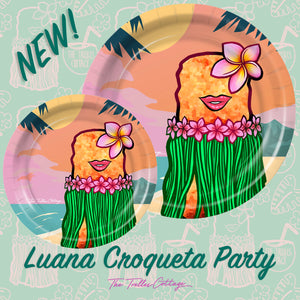 Luana Party Plates - Disposable Plates - Croqueta Party
The Trelles Cottage
Regular price $12.00 Sale
(Perfect for any Luau/Pool/Beach Party!)
Our absolute favorite party theme is a Croqueta Party theme and guess what, now you can incorporate your love for Croquetas for your party!! Plates are available in two sizes, dinner & dessert. There are 8 plates to a set, please be sure to select the appropriate size, set, or bundle option in the options.
All of this makes for a tremenda fiesta, not to mention colorful! Any questions or if you would like to reach out to see how we can personalize your fiesta please DM us on social or email us at thetrellescottage@gmail.com 
These items are in high demand, please allow 2 weeks for processing time and 5-7 days for shipping time.